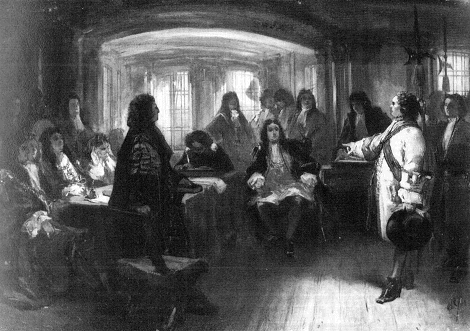 Erg populair in de 19e eeuw was een nogal nationalistische manier van geschiedsschrijven wat nogal verrassend uit kan pakken.

Op DBNL vond ik het boek onder redactie van van Dedalo Carasso, met wat interessante vermeldingen over de 17e eeuw. Boven een schilderij van Charles Rochussen over het tribunaal van lord Torrington die werkeloos toekeek hoe de Fransen bij Beachy Head de Nederlandse vloot aan gort schoten. Torrington kwam er mee weg, maar viel in ongenade bij Willem III en moest zijn carriere opgeven.

~~

With Dedalo Carasso as editor, the Amsterdam Historical Museum, presented a book with paintings of rather nationalistic 19th century painters, based on a manuscript called 'Heroes of the country'. You get the idea, I guess.

Above a painting by Charles Rochussen of the tribunal of Lord Torrington who failed to assist the Dutch at Beachy Head, who were then mangled by the French. Torrington got aquitted at his court martial, but he fell out of grace with William III, and left active service.